Pontoon Boats for sale in Lakefield, ON
At Town & Country Marine we carry a large inventory of new and pre owned pontoon boats & tritoons, located in the heart of the Kawartha Lakes, Lakefield, Ontario. Carrying two  top pontoon boat brands, Harris and Barletta Town & Country Marine's friendly sales and service team has the knowledge, skills and brands you trust to make your family's summer on the water!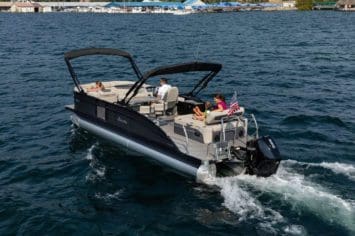 Pontoon boats, generally speaking, are boats comprised of a large & flat deck which are fastened to two or three cylindrical tubes for flotation.  Pontoon boats are often powered by outboard motors which are fastened to the transom using a sponson. Known for their accessibility, pontoons are easy to board on-and-off without any climbing or maneuvering due to the entry and exit gates being flush with the standing-deck. Pontoons are great for larger groups with a wide-variety of needs including water sports, leisurely cruises, fishing, storage and accessibility.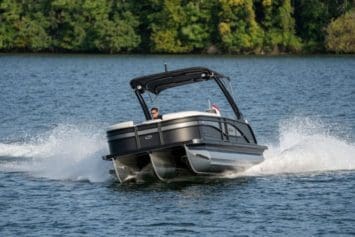 There are essentially two types of pontoon boats: Traditional pontoons which are a deck with two tubes, a sponson and engine with enough power to leisurely cruise around the lake. Tritoons (or triple-toons) namely, are a deck and three pontoons often equipped with lifting strakes, keels and other performance enhancing features. The third pontoon usually extends all the way back to the transom, which would act as a sponson. Some tritoons utilize a performance planing tube as oppose to a full-length tube, which gives you two pontoons (port & starboard), a middle tube which often runs 60-70% of the length of the boat AND a sponson. This is a more cost-effective option however the full-lenth centre tube provides more performance, better and more enjoyable driving experience, larger person and fuel capacity, enhanced stability and more. 
Where to Find pontoon boats in Ontario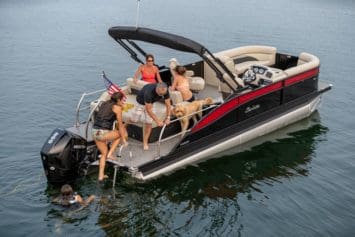 There are allot of pontoon dealers in Ontario that offer great brands and selection. At Town & Country Marine, we strive to be the Ontario leader in pontoon boats. We have two of the most reputable brands in the pontoon segment, Harris Pontoons & Barletta Pontoons . Both brands have unique performance features and build processes that set them above the industry and you can rely on TC Marine to stock a large selection of both brands to ensure you can get the right colours, options, power and floorplan to suit your families boating needs. We also carry a great selection of used pontoons  to suit your needs and budget.