Wake Boats for sale in Lakefield, ON
The best way for active families to make the most out of summer on the water. Town & Country Marine is a top dealer for wakeboard and wakesurf boats for sale in Ontario, offering new models of Malibu Boats & Axis Wake Research Boats . Browse our inventory of new & used wakeboard & wakesurf boats or check out info or inventory on our main brands, Malibu & Axis. Our sales team is here to help you find the right size, make & model of wake boat to fit your families needs and budget.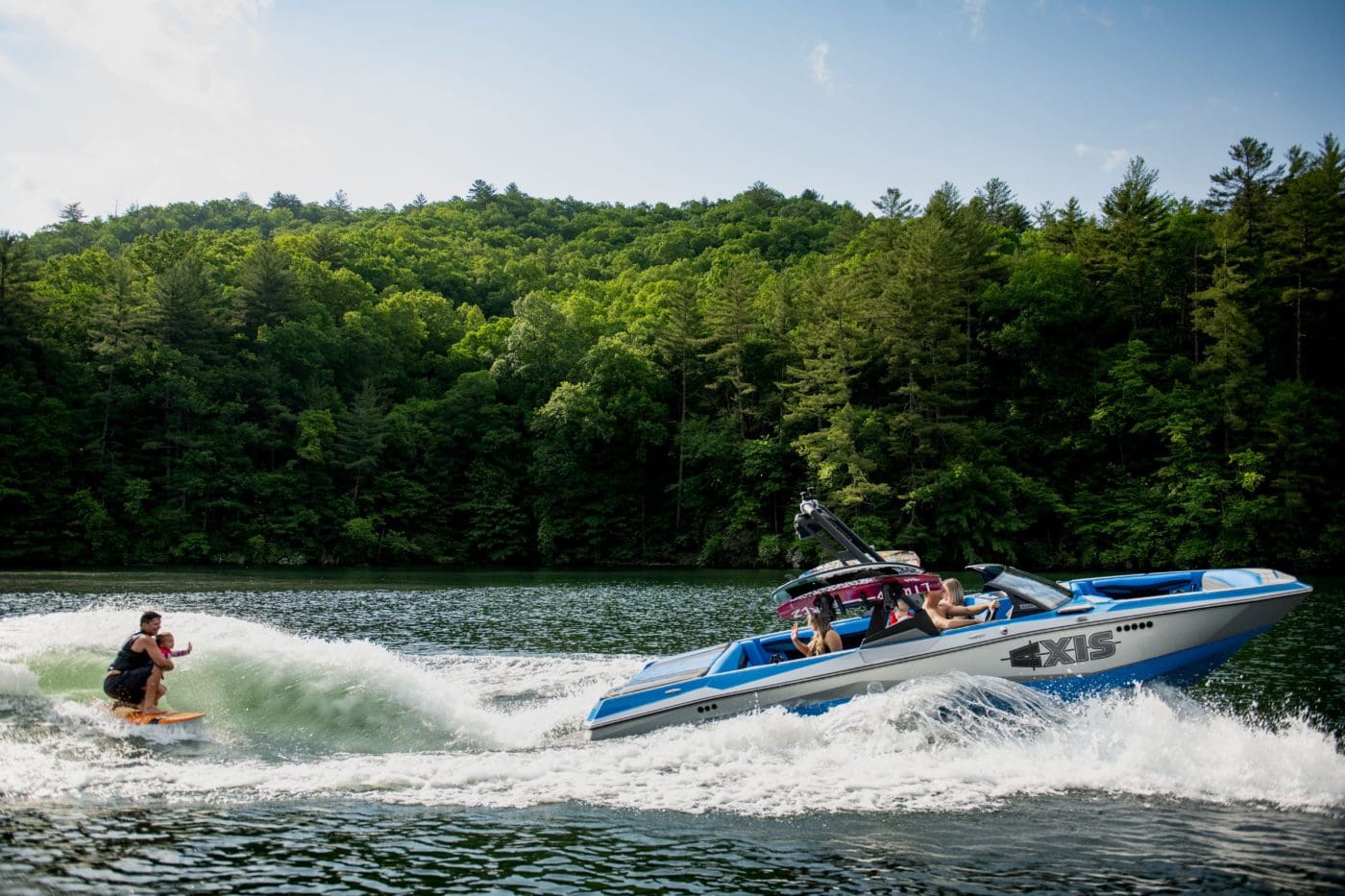 Often referred to as either wakeboard boats, wakesurf boats, tow boats or watersports boats, these watercraft specialize in behind-boat watersports such as wakeboarding, wake surfing, skiing, wake foiling & more. The hull is generally more flat along the running surface, with a steep "Vee" toward the bow to cut through chop. The flat running surface toward the rear creates a nice even wake behind the boat that makes watersports more enjoyable and the water less washy. You will often see wakeboard towers on these boats which provides a higher tow-point for riders to get-up easier and perform aerials. Towers are also easy to accessorize with speakers, board racks and sun shades. 
Wake boats are one of the best ways to maximize your time spent on the water and are usually equipped with comfortable seating and day boat amenities such as sound systems, coolers, bimini tops and more. Wake boats are usually propelled by a direct-drive or V-drive system, meaning the propeller is completely underneath the boat providing complete safety to the rider behind the boat no matter how close they are to the transom. This drive system also provides the most torque, allowing more weight in the boat which creates a bigger wake/wave while still being able to safely maneuver.  Wake boats are usually equipped with ballast tanks which hold water to increase weight and various other wake-enhancing features such as wedges, wake-tabs, surf-gates & more. 
What should I look for in a wakeboat?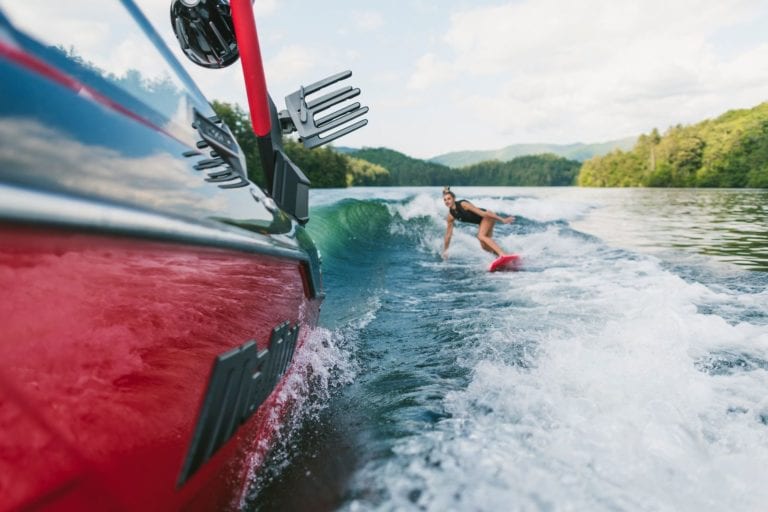 In the market today exist many makes & models of watersports boats that many people own & love. But how can you ensure you make the right choice for you and your family? It's important to know and understand the unique features that each make offers to ensure you're getting the right boat for the money. First & foremost, ballast tanks & bags are key. If you're looking to advance in watersports, you need a bigger wake/wave and there's no better way to do that than with more weight. You'll also want to ensure the boat has a flexible ballast setup for different riding preferences and sports so you can shift weight around accordingly. 
I will guess that if you're looking for a wake boat, you're probably wanting to wake surf. If this is you and you're buying new, you'll want to ensure the boat in question has a dedicated surf system. You'll also want to ensure this system is proven to be effective at creating enjoyable surf waves and that it doesn't effect your ability to safely maneuver the boat. Surf Gate, a unique Malibu Boats patent and the first dedicated surf system to hit the market, allows you to wake surf with the push of a button without leaning the boat from side-to-side. This also allows for a bigger wave because you're not sacrificing any ballast weight to create lean on your desired surf side. 
Another key feature to look for in a wake boat is a wake/wave shaping system so you can customize the shape, size and feel of your wave to match your preference. With Malibu & Axis, the Power Wedge does this and so much more. Use the wedge to select 7 different positions to alter the shape of your wave but also just having it deployed accounts for about 1,500 lbs of additional ballast. To boot, the wedge even has a "lift" feature that helps the boat get on plane faster when full of weight & ballast without straining the engine or using a ton of fuel. 
Where can I buy quality wake boats in Ontario?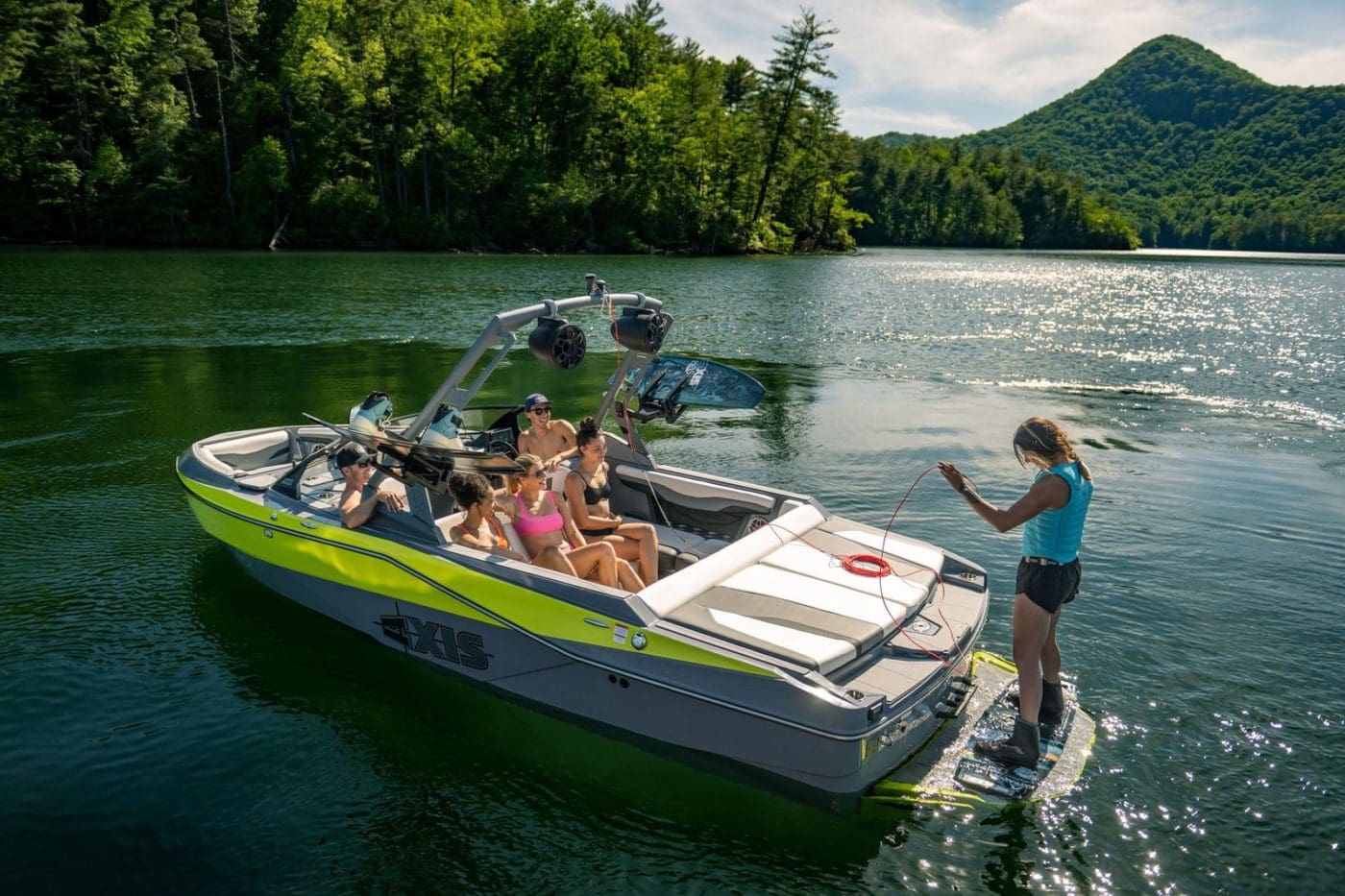 If you're considering buying a wake boat, it's important to know & trust your dealer and find one that will work with your needs, budget and schedule.  At TC Marine, we have the knowledge and expertise to guide you into the right wake boat and back up your purchase with award-winning service to make sure you maximize time on the water. We are central Ontario's source of wakeboard and wakesurf boats for sale and will help you every step of the way of your purchasing journey. Whether it's a detailed walkthrough, video walk through or even an on water demo, we will make getting into a wake boat as easy as it should be.